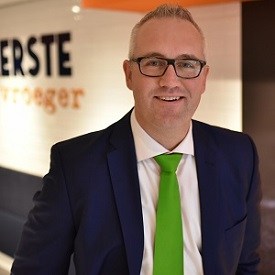 Franchise: stronger together!
My father founded our organization in 1994. A franchise formula for cafeteria companies; originated from his own extremely successful cafeteria. Entrepreneurs were curious about his success, its origins and were eager to board his new organization. His slogan could be 'From entrepreneurs, for entrepreneurs'. My father sold his 'last' own cafeteria on January 1. A professional visionary who leaves the profession. Sin! But even though I say shameless old man to him, and then he laughs and remarks that I am grayer than himself, he starts a new franchise organization. With a young, fresh and an enthusiastic team in healthy Asian fast food. Because franchise is beautiful and it is addictive to work with breed entrepreneurs who consciously choose the franchise model.
Franchise entrepreneurs are not often put away as entrepreneurs who just can't do it all themselves. There is of course no greater nonsense. Because working with colleagues and a service-oriented head office that provides support in operating a good formula is a clear and excellent choice. You can paint the house yourself, but with a professional painter it all looks a lot better and it stays beautiful for years.
In the 20 years that I have been involved in the organization, of which the past 9 years as director, I have had many romantics in the office. Candidate entrepreneurs in the making who were interested in doing business in catering or catering. From amateur chefs and job hoppers looking for the next challenge to people who want to get rich quickly and easily, in all kinds of praise. I occasionally grin at the man who presented an A-0 format organization chart for his neighborhood cafeteria that the Royal Dutch Shell would be jealous of. They are all wonderful people, but totally unsuitable for franchise entrepreneurship. With the more than 100 franchise entrepreneurs who have started within Family, Foodmaster or Vital4Skool, I work with our team every day with great dedication and mutual appreciation on their journey to success. Our secret is loyalty, hard work and commitment and this year we are extra appreciated for this. I can proudly report that we have been nominated by the Dutch Franchise Association for the NFV Franchise Trophy 4 with our formula Vital2018Skool, whereby our franchise entrepreneurs offer healthy food and drinks in education on a daily basis. Thank you!
Ralph Markwat, director of FHC Formula Management (www.fhc-formulebeheer.nl)